Puget Sound Lidar Consortium
Parent | Home | About Lidar | About the PSLC | Data | Uses of Lidar data | Links | Contact us
---
San Juan Islands (with Lummi and Pt. Roberts) PSLC LiDAR survey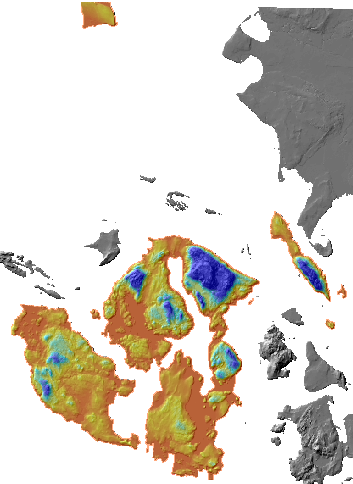 To download the 5,442,437,481-byte filegeodatabase
First download partofsanjuangdb.zip
Unzip it to create the sanjuan_lidar.gdb directory.
Download a00000029.gdbtable and a0000002e.gdbtable INTO that directory
This filegeodatabase can be read by ESRI and some other software. It contains bare-earth and first-return DEMs with corresponding shaded-relief images. Pyramid files for shaded relief were created with bilinear resampling.
The coordinate system is Washington State North Nas83 (FIPS 4601). Cellsize is three feet. Vertical units are feet in the NAVD88 datum.
You can access this data as a data service
Skimpy metadata